Space Police
Release years:
Main theme:
Colour scheme:
Concurrent faction(s):
Space Police was a subtheme of LEGO Space in the year 1989.
Details
In 1989, LEGO made a storyline decision. Blacktron, previously operating in a moral void, were now declared the "bad guys" of Space; opposing them and defending the civilian Futuron from them were the Space Police, a group of brave individuals whose spacecraft were black and blue with red transparent brick elements. (This would be a continuing theme of space, having "bad guy" space races, "good guy" space races, with "civilian" space races between them.) Space Police re-introduced the idea of modular systems, on a smaller but also grander scale.
The Space Police theme features three spaceships, two wheeled vehicles and a ground-based space station; all but the smallest buggy comes with a Space Police jail cell (which was often supplied with a Blacktron occupant). These jail cells were identical from set to set, and had the ability to be traded around between vehicles with no hassle whatsoever.
Space Police is often referred to as Space Police I, as Space Police II was released by LEGO in 1992, and Space Police III was released in 2009.
Reception
This theme marks the beginning of LEGO Space's greatest period of success, and is one of the most well-loved themes of the collection; complete models of the largest ship, 6986 Mission Commander, have been known to sell for $90, via online vendors.
Popular Space Police vehicles include Spy-Trak I and Mission Commander (both 1989). The base was Space Lock-Up Isolation Base (1989).
Sets
Minifigures
Gallery
Advertisement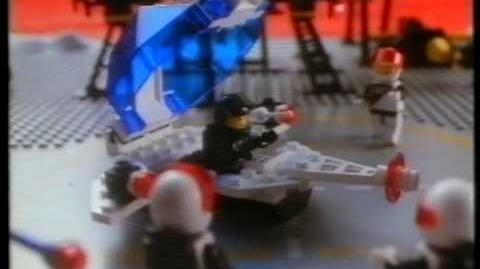 See also
Sources