Raise a Floppa - The Loop
Play Sound

Sports was a System compatible toyline that involved tabletop versions of team sports such as Basketball, Football (Soccer) and Hockey, as well as other sports like skateboarding or snowboarding (both under the name Gravity Games). Most sets included normal System elements and even normal minifigures but also featured many new unique pieces to enable various new playability functions that were characterictic to this theme and set it apart from other sports-related conventional LEGO sets.
The name Sports and the logo first appeared in 2003, although the first Sports-styled soccer-sets already appeared in 2000. But these were then sold under their own logo and not under the Sports brand until 2003 when LEGO added additional forms of sport to its portfolio.
Licensing contracts allowed LEGO to sell many of its sets with the official logos of major sports organizations related to the sport featured in the sets, such as NBA, NHL, NHL Players' Association and Gravity Games or sporting good manfacturers like Adidas.
Featured sports
Football was the first sport featured in the sports theme. The first sets were released in 2000. The play principle involved minifigures on fixed positions that were mounted on flexible stands in the center of small pits on the field. The football would fall into one of the pits and flipping back and releasing the respective figure would flick the ball out of the pit into the desired direction. With this concept, two large football fields for team matches and several small training setups with fewer figures were released.
Basketball worked in a similar way as soccer, but the ball had to be picked up from the pit first by bending the minifigures over so that the ball was grabbed between the arms. It was then flipped back and upon release the ball was flicked away. The minifigures have special leg segments with springs so they could be bent over easier.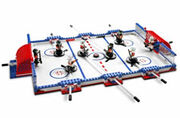 There were some sets featuring LEGO Hockey Minifigures, as well as larger figures that moved their hockey stick when hit on the head using TECHNIC parts. Also seen was a set based on Street Hockey. Interestingly, while this is a System theme, there were only two System sets but a large number of TECHNIC sets.
Skateboarding and snowboarding (Gravity Games)
These sets featured normal minifigures on small boards that could be used in a way similar to fingerboards. The sets also included several accessories such as ramps, rails or half pipes.
Sets
Image
#
Set
Number of pieces
Minifigures
Price
Release
TS14
T-Shirt, Soccer
1
 
 
1428
Kick 'n' Score
 
 
2002
1429
Goalkeeper Training
23
1
 
2002
1430
Precision Training
 
 
2002
3310
Press Box
93
2
 
1998
3311
Television Tower
98
Camera Man , Camera Woman
 
1998
3312
Paramedic Unit
78
2
 
1998
No image
3389
Skateboarder
 
 
 
3390
Streetball Player
5
1
 
2003
3401
Shoot 'n' Score
22
2
$5.99
2001
3402
Grandstand
59
2
$10.00
2001
3403
Grandstand with Scoreboard
79
3
$14.99
2000
3404
Black Team Bus
126
6
 
2001
3405
Blue Team Bus
126
6
 
2001
3406
Americas Team Transport
126
6
$19.99
2000
3407
Red Team Transport
126
6
 
2001
3408
Super Sports Coverage
213
5
 
2000
3409
Championship Challenge
274
Goalkeepers (2),

Red and White Players (5),

Green and White Players (5)
$49.99
2000
3410
Field Expansion Set
49
4
$15.00
2000
3411
Team Transport
126
6
$20.00
2000
3412
Point Shooting
24
1
$4.99
2000
3413
Goal Keeper
27
1
$4.99
2000
3414
Precision Shooting
23
1
$4.99
2000
3415
Japanese Soccer Team
 
 
Unreleased (Would have been 2001)
3416
Women's Soccer Team
62
6
$10.00
2001
3418
Point Shooting
24
Soccer Player
 
2001
3419
Precision Shooting
23
Soccer Player
 
2001
3420
Championship Challenge II
376
12
 
2002
3421
3 vs. 3 Shootout
225
6
$30.00
2002
3422
Shoot-N-Save
106
2
$20.00
2002
3423
Freekick Frenzy
51
Person (x2)
$9.99
2002
3424
Target Practice
37
1
 
2002
3425
Grand Championship Cup
548
22
 
2002
3426
Adidas Team Transport
125
6
 
2002
3427
NBA Slam Dunk
54
1
 
2003
3428
One vs One Action
37
2
$10.00
2003
3429
Ultimate Defense
80
2
$15.00
2003
3430
NBA Spin and Shoot
71
2
 
2003
No image
3431
Street Ball 2 vs 2
 
 
 
3432
NBA Challenge
441
10 NBA Players
 
2003
3433
Ultimate NBA Arena
481
10
 
2003
No image
3440

NBA Jam Session

 
 
 
3440
NBA Jam Session Co-Pack
68
2
 
2003
3500
Kobe Bryant
4
Kobe Bryant
 
2003
3529
Pau Gasol
3
Pau Gasol
 
2003
3530
Tony Parker
4
Tony Parker
 
2003
3535
Skateboard Street Park
69
1
$9.99
2003
3536
Snowboard Big Air Comp
82
Snowboarder
 
2003
3537
Skateboard Vert Park Challenge
88
2 Skateboarders
$20.00
2003
3538
Snowboard Boarder Cross Race
197
2 Snowboarders
 
2003
3540
Puck Passer
44
 
2003
3541
Slap Shot
45
 
2003
3542
Flip Shot
46
 
2003
3543
Slammer Goalie
43
 
2003
3544
Game Set
146
 
2003
3545
Puck Feeder
152
 
2003
3548
Slam Dunk Trainer
16
1
$4.00
2003
3549
Practice Shooting
18
1
$4.00
2003
3550
Jump and Shoot
17
1
 
2003
3557
Blue Player and Goal
34
$3.99
2003
3558
Red Player and Goal
34
$4.00
2003
3559
Red and Blue Player
41
 
2003
3560
NBA Collectors
10
Ray Allen, Tim Duncan, Pau Gasol
 
2003
3561
NBA Collectors
10
Shaquille O'Neal, Antoine Walker, Tony Parker
$8.00
2003
3562
NBA Collectors
11
Gary Payton, Dirk Nowitzki, Vince Carter
 
2003
3563
NBA Collectors
10
Jason Kidd, Kobe Bryant, Toni Kukoc
$8.00
2003
3564
NBA Collectors
10
Karl Malone, Allen Iverson, Steve Francis
 
2003
3565
NBA Collectors
12
Paul Pierce, Steve Nash
 
2003
3566
NBA Collectors
10
Jalen Rose, Pedrag Stojakovic, Kevin Garnett
$9.99
2003
3567
NBA Collectors
10
Tracy McGrady, Chris Webber, Allan Houston
 
2003
3568
Soccer Target Practice
26
2
 
2006
3569
Grand Soccer Stadium
386
14
$49.99
2006
3570
Street Soccer
199
4
$20.00
2006
3573
Superstar Figure
9
Super Goalie
 
2007
3578
NHL Championship Challenge
374
Hockey Player 1 Hockey Player 2 Hockey Player 3 Hockey Player 4 Hockey Player 5 Hockey Player 6 Hockey Player 7 Hockey Player 8
 
2004
3579
NHL Street Hockey
114
2 Street Hockey players
$19.99
2004
3584
Rapid Return
46
1
 
2003
3585
Snowboard Super Pipe
225
2
 
2003
4202562
Football
1
 
2005
4443
Defender 1
4
1
 
2002
4444
Defender 2
4
1
 
2002
4445
Midfielder 1
4
1
 
2002
4446
Forwarder 1
4
1
 
2002
4447
Forwarder 2
4
1
 
2002
4448
Defender 3
4
1
 
2002
4449
Defender 4
4
1
 
2002
4450
Midfielder 2
4
1
 
2002
4451
Forwarder 3
4
1
 
2002
4452
Forwarder 4
4
1
 
2002
4453
Goal Keeper
4
1
 
2002
4454
Referee
6
1
 
2002
4455
Hot Dog Girl
6
Hot Dog Girl
 
2002
4456
Doctor
5
1
 
2002
4457
TV Cameraman
4
1
 
2002
4458
TV Camera
11
 
2002
4459
PK Kicker
4
 
2002
4460
Goal
7
 
2002
4461
Bench
7
 
2002
4462
Hotdog Trolley
19
 
2002
4463
Light
16
 
2002
4464
Bottle Case
7
 
2002
4465
Vending Machine
6
 
2002
4466
Sign Board
3
 
2002
4467
Stretcher
3
 
2002
4468
Stand
9
 
2002
4469
Drink Stand
8
 
2002
4470
Ball
2
 
2002
4471
Secret Set A
4
Coca-Cola Sponsor
 
2002
4472
Secret Set B
4
Coca-Cola sponsor
 
2002
5012
Footballer and Goal
15
1
 
September 2003
No image
5013
Free Throw
 
 
 
5014
2 Players
28
 
2003
No image
5015
Skateboarder
 
 
 
5016
Player and Backboard
17

Basketball Player

 
2003
5017
2 Players
36
 
2003
5018
Snowboarder
17
Snowboarder
 
2003
7917
Blue Basketball Player
5
 
2004
7918
Green Basketball Player
5
 
2004
7919
White Hockey Player
6
1
 
2004
7920
Blue Hockey Player
6
1 TECHNIC Hockey player (blue)
 
March, 2004
7921
Skateboarder
6
1
 
2004
7922
Snowboarder
5
1
 
2004
7923
White Football Player
6
1
 
2004
7924
Red Football Player
6
1
 
2004
10121
NBA Basketball Teams
16
5
$10.00
2003
10127
NHL Action Set with Stickers
59
$8.99
2003
65182
Slammer Stadium
146
 
2003
78800
Soccer Co-Pack
125
5
 
2001
7676139
LEGO Vertical Lunch
 
$21.00