Star Wars Mini is a subtheme of LEGO Star Wars sets that consists of microscale models of Star Wars vehicles. The first Star Wars Mini set (3219 Mini TIE Fighter) was released in 2002. As usual for microscale models, they did not include any minifigures.
All Star Wars Mini sets usually contain less than 100 pieces, but were still larger than most impulse sets. Though the very first set, 3219 Mini TIE Fighter, contained only 12 pieces, which made this the smallest of the mini sets ever made.
A secret Mini TIE Bomber model could be built by using extra parts that were included in the sets 4484 to 4487. These four sets were later available in a bonus pack (4207901 Star Wars Mini Bonus Pack) which are all the sets that contain two models. Another secret model was the Mini Y-wing Fighter which required the extra parts from the sets 4488 to 4491.
Sets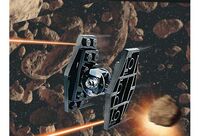 Community content is available under
CC-BY-SA
unless otherwise noted.