This article needs to be built up.
This article lacks substantial content. You can help Brickipedia by "adding on some bricks."
In other words, it needs to be expanded. After you expand the article, please remove the "Expand" template. Further information might be found on the

talk page

.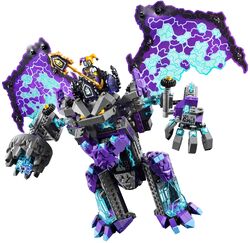 "That Mer-loser always thinks he knows the way out. Well, there's no way out this time. Ever since my defeat at the hands of Merlok so many years ago, all I've thought about is revenge. I tried to regain my powers as the Book of Monsters. Then, as the Cloud of Monstrox, I assembled the Forbidden Powers to become the Colossus of Ultimate Destruction. And now...finally...I'll take my vengeance on the kingdom...on the Nexo Knights...on Merlok...on everyone! I'll wipe this realm from the face of the map!"
―Stone Colossus
The Stone Colossus, also known as the Colossus of Ultimate Destruction, is a massive member of the Stone Monster from Nexo Knights.
History
Appearances
Gallery