GTA: The Criminal Enterprises - The Loop
Play Sound

Studios is a theme that was introduced in 2000 and discontinued by the end of 2002 or in early 2003. Sets of the theme mainly focused on the making of stop-motion movies and the steps and practices thereof. The theme featured several licensed subthemes, including Jurassic Park III and the last of which was the original Spider-Man movie series in 2002.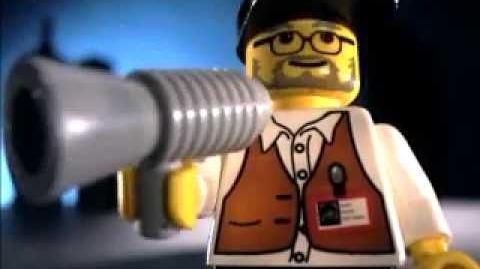 Characteristics And Popularity
The appeal of Studios is that the stop-motion animation camera, included with the set 1349 LEGO Studios Steven Spielberg MovieMaker Set, allows users to create real stop-motion movies with LEGO Bricks. In response, many websites that are dedicated to creating such movies, which are now known as "Brickfilms", have been created.
The director Minifigure featured in most of the sets is a caricature of Steven Spielberg, who attached his name to the aforementioned MovieMaker set. Unusually, he was included in the Lego Studios Spider-Man Action Studio set, but the movies were directed by Sam Raimi.
Adventurers characters Johnny Thunder and Pippin Reed appear as Actors in three sets, based on the adventurer's theme from 2001-2004. Namely 1355 Temple of Gloom, 1370 Raptor Rumble Studio, and 1354 Dino Head Attack.
This theme also appears in My LEGO Network (MLN) on the LEGO website as collectable stickers.
Sets
Image
#
Set
Number of pieces
Minifigures
Price
Release
10075
Spider-Man Action Pack
25
Green Goblin , Mary Jane Watson , Director , Peter Parker , Police Officer , Spider-Man , Stunt Man
 
2002
1349
LEGO & Steven Spielberg MovieMaker Set
433
Director , Assistant , Cameraman , Actress , Grip , Stunt Man , Res-Q Fireman
$179.99
2000
1351
Movie Backdrop Studio
209
Grip , Policeman , Stunt Man
$59.99
2001
1352
Explosion Studio
232
Cameraman , Police Officer , Stunt Man , Director
$35.00
2001
1353
Car Stunt Studio
164
Cameraman, Stunt Man
$19.99
2001
1354
Dino Head Attack
92
Actress, Grip
$9.99
2001
1355
Temple of Gloom
56
Johnny Thunder, Cameraman
$6.99
2001
1356
Stunt Man Catapult
27
Director, Stunt Man
$3.99 / €2.99
2001
1357
Cameraman
20
Cameraman
$1.99
2001
1360
Director's Copter
21
Director
$2.99
2001
1361
Camera Car
19
Cameraman
$2.99
2001
1362
Air Boat
23
Stunt Driver
$2.99
2001
1363
Stunt Go-Cart
24
Stunt Man
$2.99
2001
1370
Raptor Rumble Studio
154
Cameraman, Johnny Thunder, Pippin Reed
$19.99
2001
1371
Spinosaurus Attack Studio
178
Stunt Man, Cameraman
$34.99
2001
1374
Green Goblin
55
Mary Jane Watson, Green Goblin
$6.99
2002
1375
Wrestling Scene
128
Spider-Man (Wrestler), Bone Saw, Cameraman
 
2003 (unreleased)
1376
Spider-Man Action Studio
244
Spider-Man,

Peter Parker, Stunt Man, Director,

Policeman
$29.99
2002
1380
Werewolf Ambush
110
Gentleman, Lady, Werewolf
$9.99
2002
1381
Vampire Crypt
170
Vampire, Hunchback, Gentleman, Grip
$19.99
August 2002
1382
Scary Laboratory
492
Frankenstein's Monster, Mad Scientist, Gentleman, Lady, Director, Skeleton, Ghost
$49.99
2002
1383
Curse of the Pharaoh
50
Pharaoh, Skeleton
$3.99
2002
1411
Treasure Hunt Kit
29
Skeleton, Cameraman
 
2001
1421
Director's Copter
22
Director
 
2001
1422
Camera Car
19
Cameraman
 
2001
1423
Air Boat
25
1
 
2001
No image
1424
Stunt Go-Cart
24
Stunt Man
 
2001
4049
Film Set with Quicky
28
Quicky , Cameraman , Director
 
2001
4051
Quicky the Bunny
4
Quicky
 
2001
4052
Director
4
Director/Steven Spielberg
 
2001
4053
Cameraman
5
Cameraman
 
2001
4056
Colour Light
13
 
2001
4057
Spot Light
10
 
2001
4058
Cameraman 1
4
Cameraman
 
2001
4059
Director
4
Director
 
2001
4060
Grip
4
Grip
 
2001
4061
Assistant
4
Assistant (Studios)
 
2001
4062
Actress
4
Actress
 
2001
4063
Cameraman 2
4
Camera Man
 
2001
4064
Actor 2
4
Actor
 
2001
4065
Actor 3
4
Robber Chief
 
2001
4066
Actor 1
4
Stunt Man
 
2001
4067
Buggy
15
 
2001
4068
Handy Camera
6
 
2001
4069
Katinco & Megaphone
4
 
2001
4070
Stand Camera
7
 
2001
4071
Bottles
7
 
2001
4072
Skeleton
6
Skeleton
 
2001
4073
Tree 1
6
 
2001
4074
Tree 3
14
 
2001
4075
Tree 2
13
 
2001
4076
Pteranodon
17
 
2001
4077
Plesiosaur
13
 
2001
4078
T-Rex
18
 
2001
4079
Mini Rex
4
Baby Tyrannosaurus rex
 
2001
9647
Camera and Software Kit
2
 
2000
Japanese
Coca-Cola Promotional Set Collection
148
10
 
2001
K1376
Spider-Man Adventure Kit
303
Stunt Man, Police Officer, Peter Parker, Director, Spider-Man, Green Goblin, Mary Jane Watson
 
2003
K1383
Scary Monster Madness Kit
765
Pharaoh, Skeleton, Director, Mad Scientist, Lady (2), Man (3), Frankenstein's Monster, Cameraman, Vampire, Hunchback, Werewolf
 
2002
K4852
Spider-Man Movie Kit
998
Green Goblin (3),

Mary Jane Watson (3), Spider-Man (3), Director, Actor (3), Criminal, Highway Patrolman, Taxi Driver, Peter Parker, Norman Osborn,

Scientist
 
2003
Film Crew
Scary Thriller
Notes
See Also