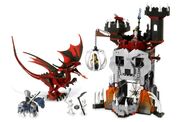 The Skeleton Tower is a 2007 Castle set that includes a Dragon, three minifigures, and two skeletons.
Skeleton Tower features one of the new dragon designs that has a wingspan of thirteen inches and is fourteen inches long, and has moveable wings. The tower itself measures eleven inches high. It has a crank that lowers a bridge opening up the castle, and has a catapult that can launch rocks at intruders. There is also a hanging skeleton prison that the princess is trapped in, and this can be lowered and opened up. This set also comes with a horse.
Community content is available under
CC-BY-SA
unless otherwise noted.