The Flash (alias Barry Allen) is a DC Universe Super Heroes minifigure who first appeared as a character in LEGO Batman 2: DC Super Heroes and LEGO Batman: The Movie – DC Super Heroes Unite. He was physically released in 2014.
Description
The Flash has an exclusively moulded helmet with yellow bolts on each side. His head is red and printed with his light nougat face and eyes, angry and smiling expressions, and the bottom of the helmet. He has a muscular red torso with his lightning logo in a white circle and a yellow lightning belt. The back is printed with a the suit cut on his back and the continuation of the belt. The Flash's legs, arms, and hands are all red.
Video Game Description
The Flash has a red helmet with two yellow lightning bolt decorations on each side. His has a muscular torso in red with his lightning logo in a white circle and a yellow lightning belt. The Flash's legs, arms, and hands are red, but he also has yellow boots on his legs.
In console versions of LEGO Batman 2: DC Super Heroes, The Flash is capable of zooming through objects and destroying them. His combats are faster than any other characters, even his body parts move at the same speed. He is also the only character able to build deconstructed LEGO bricks back together, as this ability must be used to activate several Bat Terminals.
In portable versions, as well as having super-speed, The Flash has the Acrobatic ability and so can double-jump, jump through acrobatic hatches and swing on acrobat poles. He is mainly used for activating special red treadmills with his super-speed, which can unlock minikits, soundbites and power bricks. The Flash also has a slightly different cowl and face in the portable version.
Background
Barry Allen was known for being slow and easy-going. While a senior in college (with a major in organic chemistry and a minor in criminology) he helped the police apprehend a criminal at a bank robbery, he was offered a job as a police scientist in Central City. One night, during an electrical storm Barry was working on an experiment when a lightning bolt zapped a cabinet of chemicals, and the electrified chemicals bathed him. Through several events that night and the next day, including running past a taxi, catching items a waitress dropped, and saving Iris West from a bullet, Barry discovered that he had gained super speed.
Flash's rogues gallery includes villains such as Captain Cold, Captain Boomerang, and Gorilla Grodd.
He is also a member of the Justice League, which mainly consists of Batman, Green Lantern, Superman, Wonder Woman, Aquaman, Cyborg, The Martian Manhunter and on some occasions Nightwing, Batgirl, Huntress, Zatanna, Hawkman, and Shazam.
In LEGO Batman 2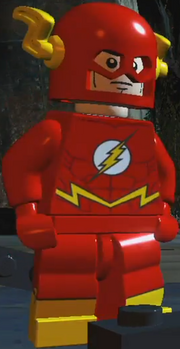 In the console version of LEGO Batman 2: DC Super Heroes, Flash is a member of the Justice League and one of the members being monitored by The Martian Manhunter while he speaks to Bruce Wayne.
He later answers Martian Manhunter's call to Gotham, but arrives later than Cyborg, Green Lantern, and Wonder Woman. He arrives after the Joker robot has fallen from Wayne Tower and helps Green Lantern quickly repair the base to relieve Superman, who faints, and Wonder Woman. He then participates in finishing off the robot and then defeating The Joker and Lex Luthor.
In the portable version, Flash is one of the Justice League members who appear to help Batman and Superman defeat Lex Luthor in the last level, The Final Battle. His minikit can also be found on this level in Free Play. He costs 300,000 studs.
Notes
Vicki Vale mentioned that The Flash fought the Joker robot at Wayne Tower with Green Lantern and Cyborg, but he didn't appear until right after where he helped Green Lantern stabilize Wayne Tower and caught the fatigued Superman. He does, however, appear in that scene in the movie LEGO Batman: The Movie - DC Super Heroes Unite.
The Flash is one of only two characters who appears in cut scenes but never speaks in the game. The other is Catwoman. He did speak in LEGO Batman: The Movie - DC Super Heroes Unite, which can also be said about Catwoman.
His helmet is moulded out of rubber, instead of plastic.
Every piece on the Flash's physical minifigure is red, including the head.
Flash will appear in The Lego Movie scheduled to be released in 2014
Appearances
Movie Appearances
Video Game Appearances
Gallery of Video Game Variants
Gallery
Source
Community content is available under
CC-BY-SA
unless otherwise noted.