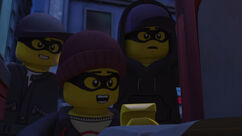 "Who's trying to get away? There are more of us than you! And we're not afraid to use our weapons -The Mechanic to the Ninja about him and his Henchman in Would You Like to Enter Prime Empire?
The Mechanic's Gang are a group of thugs who work for the Mechanic
Known Members
Appearances
Sets
Notes
They are the fourth villainous faction to consist mainly of human antagonists, following the Chen's Anacondrai warriors, Sky Pirates, the Shark Army and the Sons of Garmadon.
It's unknown what happened to them after Unagami's attack on Ninjago City. Whether they were sent to Kryptarium Prison or remain free is undisclosed.
The actors of the bank robbers in "Questing for Quests" look almost exactly like them, even using the same bats as weapons.