Raise a Floppa - The Loop
Play Sound


The Ultimate Collector's Series, or UCS, is a subtheme of sets, mainly for Star Wars although it can be used for different themes.
Description
UCS sets, introduced in 2000, are meant to be more detailed and aimed at older builders. Typically, they represent a single ship, vehicle, place or character, using as many parts as required to have a very unique set. All UCS are usually Direct To Consumer sets, referred as D2C or DTC, which means they are generally sold by LEGO directly and only by few retailers, making them "hard to find" on the market. Usually, LEGO lists them as "hard to find" or "exclusives" on their website.
UCS was primarily used for Star Wars since 2000, but was also, in a way, used for Batman. In 2006, 7784 The Batmobile Ultimate Collectors' Edition uses the mention Ultimate Collectors' Edition which is very similar to UCS. For many, this set is considered as a part of Ultimate Collector's Series collection and sometimes extended to more recent Super Heroes sets, such as 76042 The S.H.I.E.L.D. Helicarrier, which are similar in the marketing and product design to UCS Star Wars sets.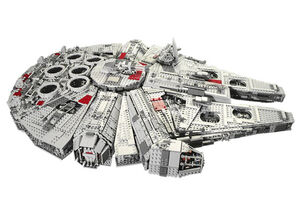 These sets did not generally include Minifigures, but since 2007, most have included at least one. Depending on the UCS definition and list, the first one to include minifigures is either 10123 Cloud City or 10179 Ultimate Collector's Millennium Falcon. Most are also not designed to scale with Minifigures, though there are some cases (such as 75060 Slave I or 75192 Millennium Falcon) where the set is completely to scale.
Ultimate Collector's Series sets tend to be larger, and more expensive than typical sets. Commonly, Ultimate Collector's Series sets were given a five-digit (10xxx) product number until 2014, when Star Wars UCS adopted the 75xxx numbering. Some of them might include an informative and exclusive plaque, which provides additional information about the ship, vehicle, place or character built.
Identification and controversy over UCS sets
The very first UCS sets, being 7181 TIE Interceptor and 7191 X-Wing Fighter, had an explicit mention they were part of an Ultimate Collector Series (the 's only appeared in 10179 Ultimate Collector's Millennium Falcon's title and 75059 Sandcrawler's logo) collection. It was also added for 7194 Yoda, 10026 Special Edition Naboo Starfighter and 10030 Imperial Star Destroyer.

In 2004, 10129 Rebel Snowspeeder, a set which used all the standards of an UCS set, did not have this usual mention, and only had a regular box. Ultimate Collector's Series was then not used for ten years on any box. It was initially replaced by Original Trilogy Edition starting from 10131 TIE Collection, while this set only had four minifigure-scaled TIE Fighters. This logo was also used for explicit UCS sets, such as 10143 Death Star II, but also for regular sets like 7263 TIE Fighter.
In 2007, the UCS title comes back for 10179 Ultimate Collector's Millennium Falcon, but does not appear anywhere else on the box than the set name. This set was the only ship which was named as part of the UCS collection between 2004 and 2014.
In May 2011, the UCS Promotional Poster was given away during the May the Fourth event. This poster clarifies the UCS list, after seven years the UCS mention has disappeared from any box with the exception of 10179. It includes obvious UCS sets such as 10129 or 10188 Death Star, but also sets that could have been seen as regular, like 10131 TIE Fighter Collection or 10123 Cloud City. It includes also 10018 Darth Maul Bust which was not identified as UCS prior to this poster, despite being a 2001 set similar to 7194 Yoda. The poster also refers to 10221 Super Star Destroyer which was not released yet. Some sets of this list are controversial and not identified as UCS: 10131 or 10123 are not a part of Brickset's list for UCS sets.
Following sets still did not include the UCS mention, but were assumed as UCS: 10225 R2-D2, 10227 B-Wing, 10240 Red Five X-wing Starfighter and 10236 Ewok Village. The last one is a controversial one as it is a wide playset including many minifigures, but is listed as an UCS set by Brickset.
In 2014, the UCS mention comes back with a logo on 75059 Sandcrawler, which is also the first one to adopt the 75xxx digit format. It includes some controversial sets such as 75098 Assault on Hoth, which was highly discussed due to the use of the UCS tag for what seemed to be a collection from different Hoth sets, similar to 10131 TIE Collection. The nature of 75159 Death Star was also discussed as 10188 did not include a specific mention to UCS in its box. Nowadays, most sets considered as UCS include this logo, even if this mention was sometimes controversial and it was also not mentioned in different sets considered as UCS and released after 2014.

Since 2017 and 75192 Millennium Falcon's release, the UCS logo was replaced by a black mention. UCS sets are also called Ultimate Collector Series, removing the 's again, since this release, as the very first UCS sets between 2000 and 2003 were.
In 2018, more controversy emerged over 75222 Betrayal at Cloud City which was not identified as an UCS but as a part of Master Builder Series, despite being similar to 10188, 10236, 75059 or 75098. The set is rarely listed as an UCS but can be considered if all Master Builder Series sets are included. When this controversy emerged, a clearer definition of what is an UCS was written by an official LEGO statement:
"The Master Builder Series models are large playsets and beside being complex builds they are characterized by having many play features and functions, interior details as well as a range of minifigures.

Ultimate Collectors Series will remain highly detailed display models providing complex builds with a focus on authenticity and both Ultimate Collectors Series and Master Builder Series will continue as a way to highlight the unique characteristic of each style of model."[1]
No explicit mention is on 75244 Tantive IV which questioned its UCS nature, despite 10198 Tantive IV being considered as an UCS on the UCS Promotional Poster. Some have chosen to not include this set on their UCS list, such as Brickset. It is not a part of Master Builder Series either.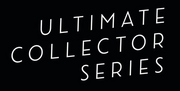 The first UCS A-Wing releases in 2020 as 75275 A-Wing Starfighter, which also introduces a new UCS logo. Unlike the 2017 logo, it keeps the previous grammar, being Ultimate Collector Series and not Ultimate Collector's Series. The set is also mentioned as "18+," instead of usual ages of 12+, 14+ or 16+ used for most UCS sets before, while some sets were for even younger ages, 10026 Special Edition Naboo Starfighter and 10123 Cloud City were for ages 9+ and 10131 TIE Collection for 8+. Other sets in 2020 such as 75274 Tie Fighter Pilot Helmet Bust, 75276 Stormtrooper Helmet Bust and 75277 Boba Fett Helmet Bust are for the same ages while not being UCS.
Fan vote for an UCS set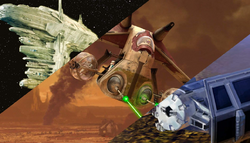 In January 2020, The LEGO Group has launched for a short amount of time - one week - the 2020 Star Wars Ultimate Collectors Series Vote on the LEGO Ideas platform. As the UCS' popularity was growing among most AFOLs, the choice was given to them between three different possible sets: a TIE Bomber, a Republic Gunship or a Nebulon B Escort Frigate. Two of the three ships had already their smaller sets, although no minifigure-scaled TIE Bomber was released since 4479 TIE Bomber and either no minifigure-scaled Republic Gunship since 75021 Republic Gunship.
The vote allowed fans to choose one set between the three ships, and also to include what minifigures they would like to see in the final version. The majority went to the Republic Gunship, which will be an upcoming set which details of number of pieces, minifigures and release date are unknown. It is likely the set will not release at the very least before 2021 or even 2022, as an UCS set can need one or several years of design work to be completed. It is likely the set will include minifigures, but the UCS size of a Republic Gunship could also be bigger than the minifigure-scale, as it is already the case for most Ultimate sets.
This fan vote was not the first being made for a Star Wars set, as 7754 Home One Mon Calamari Star Cruiser already resulted from the 2009 Fan's Choice Competition. It is the only one so far for an UCS set, and it's unknown if there will be another similar vote for the next UCS sets.
List of Sets
Star Wars
This list is based on the UCS Promotional Poster and on every box with an UCS mention or logo in the box or set name. It does not include Master Builder Series sets, or 75244 Tantive IV, considered as regular.
Image
#
Set
Number of pieces
Minifigures
Price
Release
7181
TIE Interceptor
703
$99.99 / €119.99
August 2000
7191
X-wing Fighter
1304
R2-D2
$149.99
August 2000
7194
Yoda
1075
$99.99
2002
10018
Darth Maul Bust
1860
$149.99
January 2001
10019
Rebel Blockade Runner
1748
$199.99
2001
10026
Special Edition Naboo Starfighter
187
R2-D2 (Dome Only)
$39.99
2002
10030
Imperial Star Destroyer
3104
$299.99 / €299.99
2002
10123
Cloud City
698
Darth Vader, Stormtrooper, Han Solo, Luke Skywalker, Princess Leia, Lando Calrissian, Boba Fett
$99.99
2003
10129
Rebel Snowspeeder
1457
$129.99 / €100
2003
10131
TIE Fighter Collection
682
Darth Vader, Droid Brain, TIE Pilot (x2)
$69.99
2004
10134
Y-wing Attack Starfighter
1473
Red Astromech Droid
$119.99
2004
10143
Death Star II
3449
$299.99
2005
10144
Sandcrawler
1669
Owen Lars,

Jawa (x3), R2-D2, C-3PO, R5-D4, R1-G4, ASP Droid, Gonk Droid,

Treadwell Droid
$139.99
2005
10174
Imperial AT-ST
1068
$79.99
2006
10175
Vader's TIE Advanced
1212
$99.99
2006
10178
Motorized Walking AT-AT
1137
Luke Skywalker, Snowtrooper
$129.99
October 2007
10179
Ultimate Collector's Millennium Falcon
5197
Luke Skywalker,

Han Solo, Obi-Wan Kenobi, Chewbacca(Red Brown),

Princess Leia
$499.99
July 2007
10186
General Grievous
1085
$89.99
2008
10188
Death Star
3803
Luke Skywalker (Tatooine, long hair), Luke Skywalker (Stormtrooper Disguise), Luke Skywalker (Jedi Knight), Han Solo (Brown legs), Han Solo (Stormtrooper Disguise), Princess Leia (Classic, Senator), Ben Kenobi, Darth Vader (New torso), Chewbacca, R2-D2 (New design), C-3PO (New design), Darth Sidious (New face), Grand Moff Tarkin, Assassin Droid, R2-Q5 (new head), Stormtrooper (2), Royal Guard (2), Mouse Droid, IT-O Interrogator Droid, Death Star Droid (RA-7 protocol droid), Death Star Trooper (2), Dianoga
$399.99 / €419.99
June 21, 2008 (US) / June 29, 2009 (UK)
10198
Tantive IV
1408
Princess Leia, C-3PO, R2-D2, Captain Antilles, Rebel Trooper
$149.99 / €149.99
September 4, 2009 (US, originally scheduled for September 9)
10195
Republic Dropship with AT-OT Walker
1758
Clone Trooper (6), Clone Pilot (2)
$249.99 / €249.99
March 27, 2009 (US and UK)
10212
UCS Imperial Shuttle
2503
Darth Vader,

Imperial Pilot, Imperial Officer, Luke Skywalker (Jedi Knight, no hood),

Stormtrooper
$259.99 / €259.99
September 3, 2010
10215
Obi-Wan's Jedi Starfighter
676
$99.99 / €99.99
November 1, 2010
10221
UCS Super Star Destroyer
3152
Darth Vader, Admiral Piett
$399.99 / €399.99
September 1, 2011
10225
R2-D2
2127
R2-D2
$179.99 / €179.99
May 1, 2012'"`UNIQ--ref-00000006-QINU`"'
10227
B-wing Starfighter
1486
$199.99 / €199.99
October 1 2012
10236
Ewok Village
1990
Wicket, Ewok Warrior, Teebo, Chief Chirpa, Logray, Scout Trooper (Two), Stormtrooper (Two), Luke Skywalker, Princess Leia, Han Solo, Chewbacca, C-3PO, R2-D2, Rebel Commando (Two)
$249.99 / €249.99
August 16, 2013 (For LEGO Shop VIP members)
September 1, 2013 (General release)
10240
Red Five X-wing Starfighter
1559
R2-D2
$199.99 / €199.99
May 4, 2013
75059
Sandcrawler
3296
Jawa (4x), Owen Lars, Luke Skywalker, C-3PO, R2-D2, R2 Unit, R1-series Droid, Gonk Droid, R5-D4, Wed Treadwell Droid
$299.99 / €299.99
May 4, 2014
75060
UCS Slave I
1996
Boba Fett, Stormtrooper, Bespin Guard, Han Solo
$199.99 / €199.99
January 1, 2015
75095
TIE Fighter
1685
TIE Pilot (Redesigned)
$199.99 / €199.99
May 2, 2015
75098
Assault on Hoth
2144
14
$249.99 / €249.99
April 30, 2016
75159
The Death Star
4016
R2-D2, C-3PO, Chewbacca, Han Solo (New hair, blue legs), Luke Skywalker (Tatooine), Princess Leia Organa (Senator), Luke Skywalker (Final duel), Obi-Wan Kenobi, Han Solo (New hair, Disguise), Luke Skywalker (Disguise), R3-M3, Death Star Droid, Stormtroopers (2), Imperial Gunners (2), Death Star Troopers (2), Imperial Officer , Imperial Navy Officer, Grand Moff Tarkin, Darth Vader, Emperor Palpatine, Royal Guards (2)
$499.99 / €499.99
September 15, 2016 (VIP prerelease)
October 1, 2016 (Global Release)
75144
Snowspeeder
1703
Snowspeeder Pilot,

Snowspeder Gunner

$199.99 / €199.99
2017
75192
Millennium Falcon
7541
BB-8, C-3PO, Chewbacca, Finn, Han Solo, Mynock, Porg, Princess Leia, Rey
$799.99 / €799,99
October 2017
75181
Y-wing Starfighter
1967
Jon "Dutch" Vander, R2-BHD
$199.99 / €199.99
2018
75252
Imperial Star Destroyer
4784
Imperial Officer, Imperial Crew
$699.99 / €699.99
2019
75275
A-Wing Starfighter
1673
A-wing pilot
$199.99 / €199.99
May 1, 2020
75309
Republic Gunship
3292
Mace Windu, Clone Trooper Commander
$349.99 / €349.99
August 1, 2021
75313
AT-AT
6785
Snowtrooper (4x), Snowtrooper Commander, AT-AT Pilot (2x), General Veers, Luke Skywalker
$799.99 / €799.99
November 26, 2021
75341
Luke Skywalker's Landspeeder
1890
Luke Skywalker, C-3PO
$199.99 / €199.99
May 4, 2022
DC
Although no DC sets are explicitly UCS, the mention of Ultimate Collectors' Edition is similar to it. This list presents an extended list of different DC sets part or similar to Ultimate Collectors' Edition.
| Image | # | Set | Number of pieces | Minifigures | Price | Release |
| --- | --- | --- | --- | --- | --- | --- |
| | 7784 | The Batmobile Ultimate Collectors' Edition | 1045 | | $69.99 | October 2006 |
| | 76023 | The Tumbler | 1869 | Batman , The Joker | $199.99 / €199.99 | August 1, 2014 |
| | 76052 | Batman Classic TV Series - Batcave | 2526 | Alfred Pennyworth, Batman, Bruce Wayne, Catwoman, Dick Grayson, The Joker, The Penguin, The Riddler, Robin | $269.99 / €249,99 | 2016 |
| | 76139 | 1989 Batmobile | 3306 | Batman, The Joker, Vicki Vale | $249.99 / €249,99 | November 29, 2019 |
| | 76161 | 1989 Batwing | 2363 | Batman, The Joker, Boombox | $199.99 / €199.99 | October 22, 2020 |
| | 76240 | Batmobile Tumbler | 2049 | Batman, The Joker | $229.99 / €229.99 | November 1, 2021 |
Marvel
Non-Licensed
10177 Boeing 787 Dreamliner was identified as being part of the UCS line 2007 catalogs.
References
↑ According to Hoth Bricks' report on official communication about Master Builder Series, published on August 30th, 2018 on this blog article (in French, communication in English).