I'm back!
---
About Me
Hi world, it's me Breadvil417. I have been an avid LEGO collector for about 4 years now, but never really starting buying TONS of LEGO's until about 3 years ago. Now I have a cabinet, dresser, several boxes, my play room, and my room full of LEGO's, which means I have the biggest LEGO collection around. I have several old sets that I bought off a Clearence rack, from my friend, and yard sales. In the beginning, I collected Star Wars, but started branching out once Aqua Raiders and Mars Mission came out. Then I started buying Bionicle, City, Power Miners, etc. Also, I have one of the rarest LEGO sets to date. After searching, I haven't found a single person who owns it. The set is 2539 Batwing Flyer. I think my first set I got was from my cousin. It was a big tub of Duplo LEGO's. To this day, I still build walls with those things. I mean come on, they are HUGE, and huge bricks makes for a huge and strong wall, as well as bases. My biggest set to date is, (not counting how many pieces), a Soccer Field from the Sports theme. Sadly, due to these tough times, (yes the economy is affecting kids) I have limited myself to buying just a few LEGO's. I hope to continue my hobby for a long time, and once I get to college, sell off the ones I don't like and make a fortune. Because come on, after 8 years, some of these sets will be worth a lot. Breadvil 417

I collect:
| | |
| --- | --- |
| 458 | This user has made 458 edits on Brickipedia. |
My favorite pages
(Add Later)
(Add Later)
(Add Later)
Goals
Brickipedia
Create articles for sets that are not created yet
Fix small articles that need to be fixed
Help make Brickipedia a better place
MOC's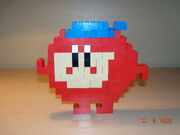 Community content is available under
CC-BY-SA
unless otherwise noted.