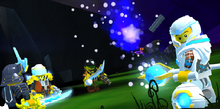 Hello, My name is Drake R. Lester. I am a helpful guy. You'll often see me collaborating with articles that need improvement every month.
My Login Entries
10/11/10 - Bought LEGO Minifigure Series 2 Weightlifter online, should get on Friday, Saturday, Sunday, or Monday.
10/12/10 - Completely bored. Just surfing the internet and helping out as much as I can.
10/13/10 - So excited. My Minifigure is on it's way. I also got LEGO Digital Designer. I might make my own set!
10/14/10 - I got my minifigure in the mail early today! Yay! Weightlifter = EPICNESS! I love it!
10/15/10 - Found luck in finding Collectable Minifigures at my local Border's store. Got Witch, Surfer, and Lifeguard. EPIC!
10/16/10 - I got the Vampire and the Ringmaster. EPICNESS!
10/17/10 - Bored...I got a Lifeguard again. Anyone wanna trade???
10/18/10 - I got 8084 Snowtrooper Battle Pack today!
10/19/10 - I got 5969 Squidman Escape today!
10/20/10 - A little preference changing went on. I may or may not post another login entry until November, unless I get a new set or a minfig...(I got Mime, Karate Master, and Disco Dude today)
10/26/10 - 5981 Raid VPR is MINE!!!
10/30/10 - 5984 Lunar Limo is now in my collection! YEAH!!!!!!!!
11/6/10 - 3847 Magma Monster is totally in my collection, and is now a Family Game Night fave!
11/12/10 - Won a bunch of money playing a cool game with my dad. He bet me 19 dollars I couldn't beat him. I did. I had 2 dollars left over, so I have 21 dollars and I am going to buy a cool lego set.
11/13/10 - Used my 21 dollars on 8897 Jagged Jaws Reef. It was worth it.
11/23/10 - 2011 sets! I got 7306 Golden Staff Guardians and 7977 Seabed Strider
About me
I am a fan of LEGO and a fan of Avatar; The Last Airbender :)
|
|
|
==
- --
==
Minifigures!
Here are some of the Collectable Minifigures I have:
Some of my favorite sets
Current Helping Project
My favorite themes
Trivia
Community content is available under
CC-BY-SA
unless otherwise noted.