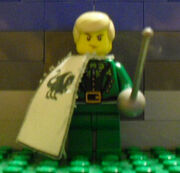 Hello, I am Irishdragon5. My favorite themes are Ninjago, Knights' Kingdom II and Kingdoms. I also own a lot of Star Wars.
My favorite pages
My favorite Minifigs
My MOC minifigs
"Shamus" (Musketeer's hat with a green plume, Rapier, Dragon Sword of Fire, custom Dragon Kingdom cape, Dragon Knight shield, same torso as a Crossbow Dragon Knight and legs from an Elite Dragon Knight)
"Lord Tyberious" (Has the head of jay, same torso as Lloyd Garmadon, Black Katana, gold shadow/thunder bolt, skeleton shield, custom Skullkin cape, same helmet and legs as 2012 Lord Garmadon)
"Evil Toby" (Same jetpack as Kai from 9443 Rattlecopter, grey sword from Knights' Kingdom, Ray gun, the head, torso, legs and armor as Rex from the set 8189 Magma Mech)
Gallery
Community content is available under
CC-BY-SA
unless otherwise noted.