Vote in the polls below!
About Me
"The more of something you kill, the more you fear it."
―Jeyo
"The only sports I like are the ones I'm playing."
―Jeyo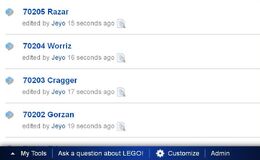 Well, hi! I'm Jeyo. I'm a patroller, rollbacker and administrator here on Brickipedia. I'm also a member of the Crown Knights

. I try to help out this wiki any way I can, and that includes assisting the users here when needed. I am, however, only semi-active. This is because since the failed move off Wikia, my will to edit has been diminished considerably. I'm still around, but don't edit mainspace much.
I hold the LEGO sets released from 1995 to 2007 in very high esteem, namely Knights' Kingdom II, Alpha Team, Adventurers, Insectoids and Star Wars.
I'm not the one to go to for the latest news on upcoming sets. I am the one to go to for the ID numbers of specific pieces and such. Nearly all of the pages I've created are part or inventory articles, actually.
Right now, I'm obsessed with MOCpages, a large site where people post awesome Lego customs much better than the ones o this wiki. I suggest you check it out.
User Rights
Polls
How would you rate this user?
How would you rate this user's customs?
(If you haven't seen them, check here for the best.)
Do you have a MOCpages account?
Movies--which series is better?
Do you enjoy soundtracks (like this one?)
Do you like polls and should I make more?
How is this current song? It's called "Secrets of the Castle" from harry Potter and the Prisoner of Azkaban.
0pxembed/8a_R14MVH181
Community content is available under
CC-BY-SA
unless otherwise noted.