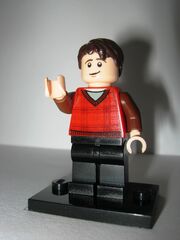 Biography
Hello my name is Matt I am Actor, Photographer and LEGO Minifigure collector. Have almost all of the Harry Potter, LOTR/Hobbit, MARVEL Super Heroes, Lone Ranger, Monster Fighters and a few others. I also make decals which are also very Fun.
My Minifigue Description
My legs and torso and from Ron Weasley, the head is Frodo's shire face and the hair is just a regular brown hair.
The photo was taken in my minifigue studio.
My favorite pages
Quotes
"I'm Captain Jack Sparrow. The original. The only!" -Jack Sparrow, On Stranger Tides
"A wizard is never late, Frodo Baggins. Nor is he early. He arrives precisely when he means to." -Gandalf The Grey, The Fellowship Of The Ring
"Come on Tom, let's finish this the way we started, together." -Harry Potter (To Voldemort), The Deathly Hallows Part 2
"Snakes. Why did it have to be snakes?" -Indiana Jones, Raders of the Lost Ark
"I would take each and every one of these dwarves over the mightiest army!" -Thorin Oakenshield, The Hobbit: An Unexpected Journey
"I still believe in heroes." -Nick Fury, The Avengers
"That's my secret, Cap: I'm always angry." -Bruce Banner, The Avengers
"When nine hundred years old you reach, look as good, you will not, hmmm?" -Yoda, Star Wars Episode VI: Return of the Jedi
"What do you mean? Do you wish me a good morning, or mean that it is a good morning whether I want it or not; or that you feel good this morning; or that it is a morning to be good on?" -Gandalf The Grey, The Hobbit: An Unexpected Journey
"Oh, we like goblinses, batses, and fishes, but we hasn't tried Hobbitses before. Is it soft? is It juicy?" -Gollum (To Bilbo), The Hobbit: An Unexpected Journey
Community content is available under
CC-BY-SA
unless otherwise noted.