Hello everybody! If you look on my profile it can. Leave sometimes a message on my profile so i can talk you all.
My Wiki
My wiki is Chronicles Of Dimensions Wiki, its an fightning game made by myself. You will travel trough different dimensions to get to the end. You need to stop the corruption before the master destroyes the world. Play it here:http://www.roblox.com/Chronicles-of-Dimensions-RPG-place?id=108025686

Bye,
PaintCreature13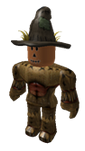 Community content is available under
CC-BY-SA
unless otherwise noted.