News Blog
---
---
Sets
Town Hall revealed!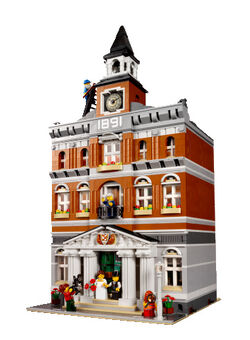 Source(s): Caramidute.ro
Author:Cligra
After months of speculation, the Modular Buildings Town Hall has finally been revealed!
---
VIP exclusive minifigure set lineup announced!

Source(s): Brickset
Author:Cligra
Finally, the lineup of minifigures for the much anticipated VIP exclusive minifigure set has been revealed. (although the actual set is still under wraps.)
---
Minifigures series 6 available in the US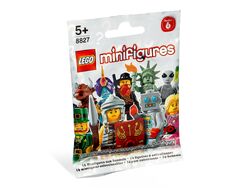 Source(s): Shop.lego.com
Author:Cligra
At last, Series 6 is now available pretty much everywhere.
---
50px CUUSOO Hayabusa to be released soon! 50px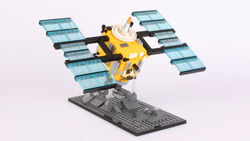 Source(s): Brickset
Author:Cligra
From Facebook:
"The second LEGO CUUSOO product, Hayabusa, is making its way from the warehouse in Denmark to Japan for release in the Japanese market. Here's a little behind-the-scenes look at the boxes being packed. Exclusives are packed in a smaller factory, which as you can see, is still done by hand.
"The LEGO Group has worked with CUUSOO in Japan since 2008 on a Japanese site that has attracted hundreds of ideas and seen thousands of votes cast. The first product, the Shinkai 6500 submersible, went on sale in Japan in February 2011. The second Japanese LEGO CUUSOO model is the Hayabusa unmanned spacecraft launched in the first quarter of this year."
It does seem like it'll only be available in Japan... Ah well.
---
Games
Lego Batman 2: DC Super Heroes Officially Announced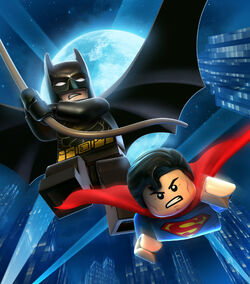 Source(s): LEGO.com
Author:Cligra
Although we knew it existed for a while, Lego Batman 2: DC Super Heroes has now been officially announced by LEGO.
Description from LEGO:


This is a description taken from LEGO.com. Do not modify it.
---
Summer 2012: Batman is back to save Gotham City and the action will only build from here!
The Highly-Anticipated Sequel to the Best-Selling LEGO® Videogame of All Time Returns with Help from Super Heroes including Superman, Wonder Woman and Green Lantern.
Warner Bros. Interactive Entertainment, TT Games and The LEGO Group are teaming up once again to announce that LEGO® Batman™ 2: DC Super Heroes will be available beginning Summer 2012 for the Xbox 360® video game and entertainment system from Microsoft, PlayStation®3 computer entertainment system, the Wii™ system, and Windows PC, as well as the Nintendo DS™ hand-held system, Nintendo 3DS™ hand-held system, and PlayStation®Vita handheld entertainment system. The game is the sequel to the best-selling LEGO® Batman™: The Videogame, which to date has sold more than 11 million units worldwide.
LEGO® Batman™ 2: DC Super Heroes complements the brand new, recently released LEGO® Super Heroes: DC Universe toy collection. The line includes five construction sets, such as The Batcave and three buildable, detailed action figures.
In LEGO® Batman™ 2: DC Super Heroes, the Dynamic Duo of Batman and Robin join other famous super heroes from the DC Universe including Superman, Wonder Woman and Green Lantern to save Gotham City from destruction at the hands of the notorious villains Lex Luthor and the Joker. Batman fans of all ages will enjoy a new and original story filled with classic LEGO videogame action and humor as players fight to put the villains back behind bars.
"LEGO® Batman™ 2: DC Super Heroes builds upon the action and cooperative gameplay experience established in our best-selling LEGO video game to date, LEGO® Batman™: The Videogame," said Tom Stone, Managing Director, TT Games. "We're offering fans a rich and expansive Gotham City environment filled with cool characters, great customization options and plenty of surprises that families, young gamers and DC Universe fans can enjoy together."
"LEGO® Batman™ 2: DC Super Heroesfurther extends and combines both the Batman and LEGO videogame experiences to create very fun gameplay," said Samantha Ryan, Senior Vice President, Development and Production, Warner Bros. Interactive Entertainment. "Fans of all ages are going to enjoy the action and light hearted humor that TT Games and LEGO provide."
LEGO® Batman™ 2: DC Super Heroes allows players to explore all new areas of Gotham City utilizing a variety of vehicles including the Batmobile and Batwing. In addition, they'll be able to fight for justice by mastering new gadgets and suits, such as Batman's Power Suit and Robins' Hazard Cannon, and using all-new abilities including flight, super-breath and heat vision.
LEGO® Batman™ 2: DC Super Heroes is being developed by TT Games and will be published by Warner Bros. Interactive Entertainment.
---
Other
Aragorn image out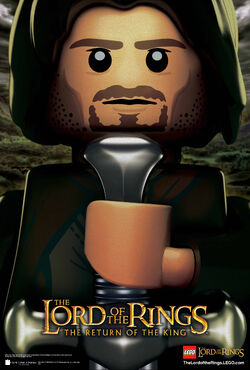 Source(s): FBTB.net
Author:Cligra
A promotional poster for Aragorn/The Return Of The King is now circulating around the web. We can only assume that there will also be posters for the other movies/other primary characters.
---
Thanks
CM4S, for giving me a source for minifigures in the US.
Me, for writing everything here that isn't a quote.
Community content is available under
CC-BY-SA
unless otherwise noted.