Sorry!
I was mistaken. I will look on the box instead of the results next time.
Welcome, Bjsjkw!
Hello and welcome to Brickipedia. I hope you like the place and choose to join our work. Here are a few good links for newcomers:
Internal pages:
External Wikipedia pages:
Remember that you should always sign your comments on talk and vote pages using four tildes, like this: ~~~~.
I hope you enjoy editing here and being a Brickipedian! If your account is new, then some features will be temporarily unavailable to you. If you have any questions, feel free to contact me on my talk page, or on the Discord Server. Happy editing! —Ahawk007 (talk) 13:24, October 28, 2020 (UTC)
Patroller/ Rollback Rights
I have applied patroller/ rollback rights to your account. These tools will allow you to more quickly remove any vandalism you should find as well as the ability to mark edits as patrolled. You can read more about these tools here.
Thanks for all you have done for the wiki!
--Toa Kopaka Nuva (talk) 00:05, November 22, 2020 (UTC)
If in cases where the edits are not vandalism you could use the undo tool or message the user who made the edit and provide a reason for undoing the edit that would be great. I've noticed several instances such as this where the initial edit appears good and needs more explanation. Thanks. --Toa Kopaka Nuva (talk) 20:10, 29 November 2020 (UTC)
Discord
If you are interested, we'd love to have you join our Discord server. This is where the other admin and I do a lot of discussion in regards to the wiki. No pressure, of course. --Toa Kopaka Nuva (talk)
Notes
Just to clarify, I keep reorganizing the Notes sections because this is what the local manual recommends. —(((Rottweiler))) (Woof? Ruff!) 02:25, 16 January 2021 (UTC)
Somebody should update the manual, then. —(((Rottweiler))) (Woof? Ruff!) 22:06, 18 January 2021 (UTC)
Sorry!
I don't remember where I got the image but you should change it back to it's smaller size. It looks very big on 2019 page.
Please make the picture back to it's normal size
Look at this picture carefully you changed it from 200 to 1000 kb. Why?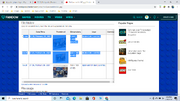 Never mind. I undid my edit and redone it and it turned back to normal. Thank you for being honest. Could have just been something on my computer.
Lego Vidiyo App character descriptions
Hello? I feel that if anything the descriptions from the Vidiyo App should be included as well.
On an unrelated note: I noticed that Punk Pirate, Alien Keytarist, DJ Cheetah, Unicorn DJ, Bunny Dancer, HipHop Robot, Werewolf Drummer, Genie Dancer and Red Panda Dancer don't have their own articles yet...
"Discowboy Singer" or "Discowboy"?
Hello? I don't want to start a dispute regarding the recent revert of "Discowboy Singer" to just "Discowboy", but he's referred to as the former in the app...
just did a possible compromise, putting "(AKA Discowboy Singer)" on his article.
Vidiyo genre descriptions?
hello? How do you think we can do descriptions for each music genre on the main Vidiyo article? I mean, each genre is clearly a fresh spin on an established one, with new twists to them in terms of theming (i.e. ETDM is a cross between alien lifeforms and EDM, right?).
Something I noticed
I have noticed months ago that certain characters from the Minifigures theme have different descriptions in the "Create the World" cards than they do online. Case in point, have a look at Kitty Pop's article. I put up her "Create the World" card description some time ago. She appeared in the Living Amazingly series.
Spiderman mk4
all that is identical. - spiderlogo - Lens -Back spider logo - the webbing on the red - how the lower red part is more angle
here is the armor in the comics
https://marvel.fandom.com/wiki/Amazing_Spider-Man_%26_Silk:_The_Spider(fly)_Effect_Infinite_Comic_Vol_1_8
Source comixology Amazing Spiderman 22-25 https://images-na.ssl-images-amazon.com/images/S/cmx-images-prod/Item/431879/Previews/1eb6f54d4df963667ace902be7cf9603._SX1600_QL80_TTD_.jpg https://images-na.ssl-images-amazon.com/images/S/cmx-images-prod/Item/444450/Previews/eaefcae7a33d3c29d922e11077d2eff4._SX1600_QL80_TTD_.jpg https://images-na.ssl-images-amazon.com/images/S/cmx-images-prod/Item/515993/Previews/6e1382e19b2df4d7d12464adf03df134._SX1600_QL80_TTD_.jpg

you asked me to proof it i did. Yet you don't give me the info how they are different besides the fact you don't feel it is. all the Print on the torso and head is clearly from mk4. also the excuse that Lego didn't conform it. But you switch the official name for the ultimate Spiderman to Stealth Suit. if that was the case half of the fig would just be named Spiderman.
More Vidiyo descriptions
Just found an alternate description for the HipHop Robot on the Vidiyo site: https://www.lego.com/en-us/kids/articles/vidiyo/breakdancer-bot-is-in-the-house-95c52d17ce1f0dae131ffddadb5f21ae
And one for the Red Panda Dancer: https://www.lego.com/en-us/kids/articles/vidiyo/ready-to-create-panda-monium-9a3554794718438625949d241f642458
More now available: https://www.lego.com/en-us/kids/articles/vidiyo/meet-bass-bot-a-hip-hop-legend-1388647136da2764afffbf535fae0d8e https://www.lego.com/en-us/kids/articles/vidiyo/candy-ballerina-a-sugar-sweet-superstar-7d24379562aba3250dcafea812b43a96 https://www.lego.com/en-us/kids/articles/vidiyo/strike-a-pose-with-flying-unicorn-singer-cb8792ace8029bd0509d7ae25bd9a590
There's also some for the Dragon Singer and Fairy Violinist here: https://www.lego.com/campaigns/kids/vidiyo WikiSurf (talk) 19:05, 21 July 2021 (UTC)
Recent Super Heroes edit
Hey Bjsjkw, I know you're an admin, but I get the feeling you're not even reading my edits on the main page. There are spelling errors and punctuation needed where you are removing it. Hope this makes sense.
New Vidiyo descriptions
Query
Is there any way to make text in things like the quote boxes more visible? You know, if someone had the "dark theme" on?