Sorry!
I was mistaken. I will look on the box instead of the results next time.
Welcome, Bjsjkw!
Hello and welcome to Brickipedia. I hope you like the place and choose to join our work. Here are a few good links for newcomers:
Internal pages:
External Wikipedia pages:
Remember that you should always sign your comments on talk and vote pages using four tildes, like this: ~~~~.
I hope you enjoy editing here and being a Brickipedian! If your account is new, then some features will be temporarily unavailable to you. If you have any questions, feel free to contact me on my talk page, or on the Discord Server. Happy editing! —Ahawk007 (talk) 13:24, October 28, 2020 (UTC)
Patroller/ Rollback Rights
I have applied patroller/ rollback rights to your account. These tools will allow you to more quickly remove any vandalism you should find as well as the ability to mark edits as patrolled. You can read more about these tools here.
Thanks for all you have done for the wiki!
--Toa Kopaka Nuva (talk) 00:05, November 22, 2020 (UTC)
If in cases where the edits are not vandalism you could use the undo tool or message the user who made the edit and provide a reason for undoing the edit that would be great. I've noticed several instances such as this where the initial edit appears good and needs more explanation. Thanks. --Toa Kopaka Nuva (talk) 20:10, 29 November 2020 (UTC)
Discord
If you are interested, we'd love to have you join our Discord server. This is where the other admin and I do a lot of discussion in regards to the wiki. No pressure, of course. --Toa Kopaka Nuva (talk)
Notes
Just to clarify, I keep reorganizing the Notes sections because this is what the local manual recommends. —(((Rottweiler))) (Woof? Ruff!) 02:25, 16 January 2021 (UTC)
Somebody should update the manual, then. —(((Rottweiler))) (Woof? Ruff!) 22:06, 18 January 2021 (UTC)
Sorry!
I don't remember where I got the image but you should change it back to it's smaller size. It looks very big on 2019 page.
Please make the picture back to it's normal size
Look at this picture carefully you changed it from 200 to 1000 kb. Why?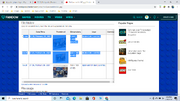 Never mind. I undid my edit and redone it and it turned back to normal. Thank you for being honest. Could have just been something on my computer.
Community content is available under
CC-BY-SA
unless otherwise noted.