Welcome, SpixNala101!
Hello and welcome to Brickipedia. I hope you like the place and choose to join our work. Here are a few good links for newcomers:
Internal pages:
External Wikipedia pages:
Remember that you should always sign your comments on talk and vote pages using four tildes, like this: ~~~~.
I hope you enjoy editing here and being a Brickipedian! If your account is new, then some features will be temporarily unavailable to you. If you have any questions, feel free to contact me on my talk page, or on the live chat. Happy editing! —Toa Kopaka Nuva (talk) 01:11, May 11, 2020 (UTC)
Hello
Thank you for your edits to Brickipedia! I suggest you take a look over category guidelines. I've noticed you've added several categories that already existed to pages such as "Nexo Sets" when "Nexo Knights" was already on the page. It's not a big deal just try and be more careful next time.
Thanks again.
I will. Were the discontinued, images, and videos categories not allowed. I just want to make sure.
And here is my real signature 20px Spixnala101 02:30, November 19, 2020 (UTC)
It depends on if the pages are based on what the category is describing. An images category for example would only go on a file. Also, it is worth noting that the wiki uses the British spelling of words so "colour" would be correct.
Thanks again for your work
-David
Re: Dolphin Clock
The page is needed I was just misremembering what it was, however the page needs major work. --Toa Kopaka Nuva (talk) 01:31, November 24, 2020 (UTC)
Re: The Badges
I'll fix them soon, but it isn't a priority at the moment. It'll probably be late next week. Toa Kopaka Nuva (talk) 01:57, 28 November 2020 (UTC)
My best advice on to make good edits is to look over our Manual of Style and check out some of our featured articles. This should help you to understand what our ideal articles look like. If you have any questions, feel free to contact me or one of the other administrators.
Thanks again for your edits to Brickipedia!--Toa Kopaka Nuva (talk) 02:30, 28 November 2020 (UTC)
Hi, I had to consult with other Admins with regards to your question but the answer i'm afraid is no. We weren't sure if any sets have ever been released with those ratings so I don't know how you'd go about finding them if there are any. Sorry I couldn't help you there but if you need anything else then feel free to ask.
Lavertus, Bureaucrat of Brickipedia (talk) 22:29, 26 January 2021 (UTC)
30365 Space Satellite
I think the picture in the 2019 page looks fine. It doesn't look too big or too small Bjsjkw Talk 9:51 PM UTC
Nope for proof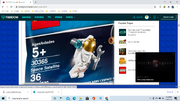 That is just odd
Re: Messages
Thanks for the messages. I'm sorry that I'm replying late, but it seems like the issue has been sorted out. Feel free to let me know if there are any future issues.-- Toa Kopaka Nuva (talk) 01:50, 27 February 2021 (UTC)
Re:Badges
The point of these badges is to reward users who edit pages that don't typically get edits. I think it is fine to leave them up right now. --Toa Kopaka Nuva (talk)
Re: Are you sure?
It's up to you. I just think 40 parts might be cheaper than a whole new set. --Toa Kopaka Nuva (talk)