Welcome, SuperSzym!
Hello and welcome to Brickipedia. I hope you like the place and choose to join our work. Here are a few good links for newcomers:
Internal pages:
External Wikipedia pages:
Remember that you should always sign your comments on talk and vote pages using four tildes, like this: ~~~~.
I hope you enjoy editing here and being a Brickipedian! If you have any questions, feel free to contact me on my talk page, or on the live chat. Happy editing! —Legoboy9373 (talk) 15:37, December 16, 2013 (UTC)
Please don't add pictures unless you're going to use them, it breaks Brickipedia's Deletion Pocliy. Thanks! DocDoom2--

20:45, September 1, 2014 (UTC)
RE: Files
Hi SuperSzym! Sorry it took me so long to get back to you. After checking the Brickipedia Deletion and Custom Policies I have found that: images that have watermarks or have copyright infringements aren't allowed. But using files such as the BIONICLE Logo for example, on Customs is acceptable from what I can tell. If I find out it isn't I will take the blame. Thanks for asking!
DocDoom2--

19:09, September 19, 2014 (UTC)
re
If you say they are from LEGO.com and use the LEGO copyright template, you should have no problem.--Toa Matau Destiny 21:03, November 3, 2014 (UTC)
re
I emailed LEGO using the contact part of their website, and asked which Robin was which. They said that the one in the bat-boat set was New 52 Dick, and that the Jokerland one was suppose to resemble Robin in Teen Titans Go!, which mean's that it is also Dick Grayson, because in that show, Robin is Dick. --JJpivotz (Jason) 22:15, February 17, 2015 (UTC)
That Figure is Lloyd
The minifigure that you named Morro in Attack of The Morro Dragon is actually Lloyd being possessed. I can't remember the link right now, but it is sourced, I'm not an idiot.--Ninja of Fire (talk) 01:54, February 19, 2015 (UTC)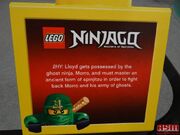 It doesn't show him in the 'possessed' form, but I'll keep searching.--Ninja of Fire (talk) 03:16, February 20, 2015 (UTC)
Do you still not believe that minifigure is not Lloyd? [[1]] [[2]]--Ninja of Fire (talk) 14:50, June 18, 2015 (UTC)
Community content is available under
CC-BY-SA
unless otherwise noted.