The Wolfpack was one of the various factions of LEGO's Castle theme and was introduced in 1992 and lasted into 1993, although 6105 Medieval Knights, released in 1994, contained one Wolfpack member. According to official sources, "The Wolfpack is a feared group of renegades. They won't let anything or anyone stop their quest for riches." The Wolfpack is tied with Dark Forest for the smallest Castle theme (they each had 3 sets.)
Details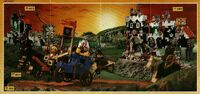 The bandits of the Wolfpack played the role of thieves, similar to the Forestmen, who were often incarcerated in castles of other factions.
They seemed to be quite organized, having uniforms emblazoned with their own crest, a silver wolf head on a black background. Their hideout was a small castle, Wolfpack tower.
Notes
Wolfpack appears in My LEGO Network.
Danju from Knights' Kingdom II also has a similar wolf design on his shield.
The Wolfpack shield can be seen in various locations around Legoland Windsor.
The Wolfpack Shield appears as an item in LEGO Universe, with the name "Wolf Shield".
The Rogue from series 16 LEGO Minifigures has a Wolfpack logo on the brooch of his cloak, his bio also mentions him being a member of a feared pack of renegades which is the same description given to the Wolfpack in catalogues. It is likely he is a Wolfpack bandit.
Sets
Gallery
Community content is available under
CC-BY-SA
unless otherwise noted.