Arcane: League of Legends - The Loop
Play Sound

Wooden Toys is the name retro-fitted to the very first LEGO toys to be created, thus making them the oldest theme. The first toy was made by hand in 1932, and was exclusive to the shop owned by the LEGO Creator, Ole Kirk Christiansen.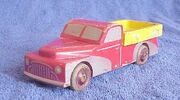 History and Sets
Beginnings of The LEGO Group
The LEGO Group began in the workshop of Ole Kirk Christiansen, a carpenter from Billund, Denmark, who began making wooden toys in 1932. In 1934, his company came to be called LEGO[1], and expanded to producing plastic toys in 1940. In 1949, LEGO began producing the now famous interlocking bricks, calling them Automatic Binding Bricks. These bricks were based largely on the design of Kiddicraft Self-Locking Bricks, which were then released in the United Kingdom in 1947.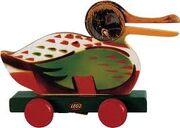 Products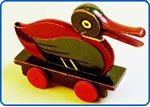 One of the first and best known products released by LEGO in the 1930's was the Wooden Duck. The duck was later remade in LEGO bricks as 2011 LEGO Duck. Another well known wood toy is Teddy Bill. However, there were many others.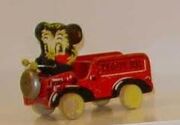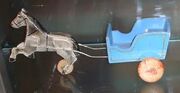 These sets ended production in the 1960's.
End of Wood Toy manufacturing
As the plastic toys started gaining popularity in the mid-1950's, the production of wooden toys was scaled back. The few wood and plastic toys that remained were marketed under the name Bilofix in 1959 and all non-system toys were finally discontinued in 1960. On February 4, 1960, the LEGO department for wooden toy production was struck by lightning and burned down for the third time. After much consideration, it was decided to discontinue production of wooden toys and to concentrate solely on plastic toys. As a result, two of the brothers, Karl Georg and Gerhardt, decided to leave the LEGO company and start their own separate business, called BILOfix. LEGO had produced at least several hundred different wooden toys and plastic toys designs since 1932. In their 28 years of production, none of the wooden toys were ever sold outside of Denmark.
Legacy
At the time, the distinguishing feature of the wooden toys was their high quality. The need for only the best is still found even in today's LEGO sets. The LEGO Duck, in particular, is a symbol of the LEGO company's early years. The wooden toys are displayed in toy museums.
List of Wooden Toys
O. K. Christiansen (1932 - 1934)
101 - bus large
102 - bus small
103 - bus small
104 - truck
105 - truck
106 - truck
107 - fire truck with ladder
108 - fire truck with hose
109 - crane truck
110 - sport car
111 - race car
112 - train large
113 - road roller
114 - tram
115 - airplane
116 - ferry
117 - ambulance small
118 - ambulance large
119 - locomotive small
120 - railroad cars
121 - piggy bank
122 - piggy bank
LEGO (1934-1960)
References
Notes
External Links